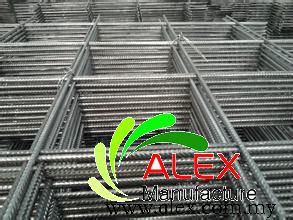 The lowest price and highest quality BRC Mesh in malaysia
Product description: We are main supplier , distributer and contractor for BRC Fencing , Perimeter Fencing, Anti Climb Fencing, Razor Wire , Barb Wire, Building safety Netting , Wire Mesh, Crimped Wire Mesh, Welded Mesh.
Alex Manufacturer produces quality Construction BRC Mesh in sheets and rolls, for the construction industries. BRC Mesh is an efficient, economical and viable option for concrete reinforcement.
It can save time and money using BRC Mesh in construction.
Wires are welded in a mat so that wires do not move when concrete is placed, ensuring the wires are in their proper position.
Sheets are designed to fit most reinforcing applications.
The optimum reinforcement is provided through the use of variable wire sizes and spacing
Available in rolls and sheets.
Construction BRC Mesh provides the exact size of reinforcement where needed through variable bar size and spacing, thereby reducing steel waste.
Construction BRC Mesh can be used for:
Slab on Grade reinforcement
Floor and Walls Systems
Topping Slabs
Architectural precast wall panels
Tilt-up construction wall systems
Shear walls
Retaining walls
Mechanically Stabilized Earth (M.S.E.) reinforcement
Alex Manufacturer SDN BHD,Professional in: Anti-climb & Anti-cut fence. Stainless Steel High Security Window Screen. Metal Wire Mesh. Stainless Wire Mesh. Fencing Mesh. Razor Wire. We are professional in wire mesh.That is all we do. High quality has always been our creed. Low price with high quality. We are not a distributor. We manufacture all of our products.We believe in customer first. We provide security solution. We provide service with customized services. We protect you and your family. We serve you people-oriented. We want you safer and closer to nature.
Contact us and inquiry to get the lowest price and highest quality in malaysia in today.
Tel : +603-7783 9887 Fax : +603-7781 9887 Email: alex@alex.com.my