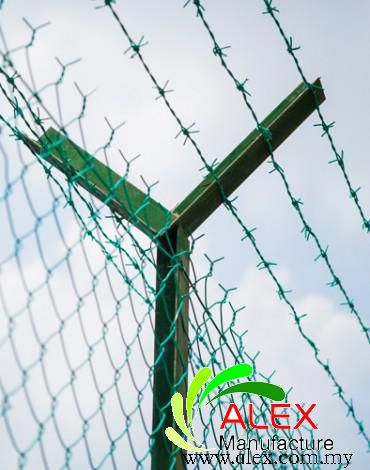 The lowest price and highest quality PVC Coated Barb Wire malaysia
PVC Coated Barb Wire
This PVC wire is used for security purposes at homes, industrial plots and agricultural farms. PVC Barbed wire is among the most widely used products for fencing applications. It is used for security purpose for not just industrial plots but also for residential plots, agricultural farms, parks, schools, etc.
The PVC layer not only has a positive effect on the strength and toughness of the material, but also reduces the risk of rust. PVC Coated Barbed Wire can be installed with piecing and cutting razor blades mounted at the top of the wall, also the special designs making climbing and touching extremely difficult.
Product description: We are main supplier , distributer and contractor for BRC Fencing , Perimeter Fencing, Anti Climb Fencing, Razor Wire , Barb Wire, Building safety Netting , Wire Mesh, Crimped Wire Mesh, Welded Mesh.
Material: high quality low carbon steel wire (galvanized, coated, spray), PVC wire twist and weaving; there are blue, green,yellow and other colors, PVC barbed wire can be galvanized wire and black silk.
Tensile strength: 30-45 kg/sq.mm
Packing: 25 kg or 50 kg / plate with tape wrapped P.V.C
Features: anti-corrosion, aging, sunscreen, durability and other characteristics.
Alex Manufacturer SDN BHD,Professional in: Anti-climb & Anti-cut fence. Stainless Steel High Security Window Screen. Metal Wire Mesh. Stainless Wire Mesh. Fencing Mesh. Razor Wire. We are professional in wire mesh.That is all we do. High quality has always been our creed. Low price with high quality. We are not a distributor. We manufacture all of our products.We believe in customer first. We provide security solution. We provide service with customized services. We protect you and your family. We serve you people-oriented. We want you safer and closer to nature.
Contact us and inquiry to get the lowest price and highest quality in malaysia in today.
Tel : +603-7783 9887 Fax : +603-7781 9887 Email: alex@alex.com.my