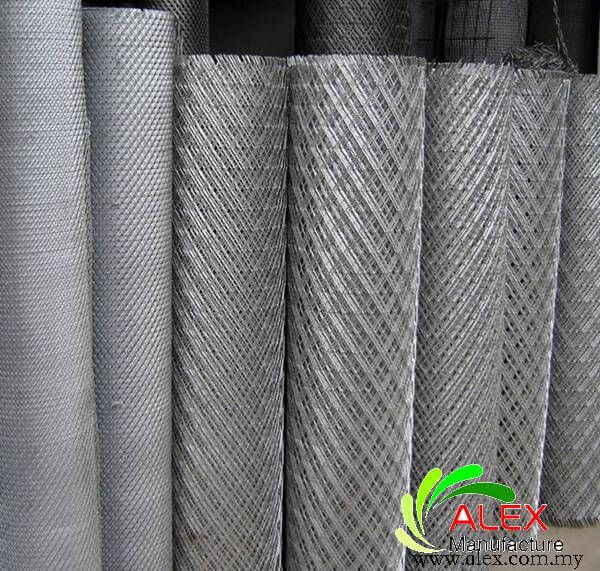 The lowest price and highest quality Expanded Metal Mesh in malaysia
Material:Low carbon steel , stainless steel , aluminum , copper , nickel. etc
Finished: PVC,hot-dipped galvanized,electro galvanized.
Product description: We are main supplier , distributer and contractor for BRC Fencing , Perimeter Fencing, Anti Climb Fencing, Razor Wire , Barb Wire, Building safety Netting , Wire Mesh, Crimped Wire Mesh, Welded Mesh.
Expanded metal products are the most versatile you will find for almost any industrial, commercial, interior design or architectural applications. These products allow excellent control of light and circulation of air. They also provide clear visibility in applications such as overhead walkways, maintenance platforms and other areas where visible security might be necessary.
Expanded metal can be made from steel plates, stainless steel plates or aluminium plates. They are simultaneously slit and expanded in a cold drawn operation to form diamond shaped openings of uniform size and thickness.
Advantages of Expanded Metal:
expanded metal permits free flow of light, heat, sound & air.
expanded metal mesh won't unravel when cut, unlike woven wire.
available in a variety of mesh configurations and decorative patterns.
expanded metal is a formidable barrier when used in security applications.
easily fabricated, finished, installed and formed.
Alex Manufacturer SDN BHD,Professional in: Anti-climb & Anti-cut fence. Stainless Steel High Security Window Screen. Metal Wire Mesh. Stainless Wire Mesh. Fencing Mesh. Razor Wire. We are professional in wire mesh.That is all we do. High quality has always been our creed. Low price with high quality. We are not a distributor. We manufacture all of our products.We believe in customer first. We provide security solution. We provide service with customized services. We protect you and your family. We serve you people-oriented. We want you safer and closer to nature.
Contact us and inquiry to get the lowest price and highest quality in malaysia in today.
Tel : +603-7783 9887 Fax : +603-7781 9887 Email: alex@alex.com.my