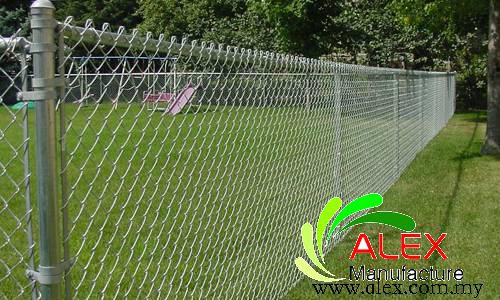 The lowest price and highest quality G.I. Chain Link Fencing in malaysia
Galvanized hot-dipped zinc coating chain link fencing is the most popular and inexpensive method for protecting chain-link fencing systems. It is made from galvanized wire. Preferred for decades to define property lines and protect property, galvanized chain-link offers a versatile fencing solution that will provide years of maintenance-free protection. Galvanized chain link fencing system all the steel components are hot-dipped zinc coated and can be used for 12 years.
Made from galvanized low carbon steel wire, galvanized chain link fencing has the features of resistance to moisture, corrosion resistance, excellent resistance to sudden temperature changes and high durability.
Wire Diameter(SWG): 8G/9G/10G/11G/12G/13G/14G/15G/16G
Hole Size: 2" / 2 1/2"
Available Height: 900mm-7000mm
Length:10M-15M
Product description: We are main supplier , distributer and contractor for BRC Fencing , Perimeter Fencing, Anti Climb Fencing, Razor Wire , Barb Wire, Building safety Netting , Wire Mesh, Crimped Wire Mesh, Welded Mesh.