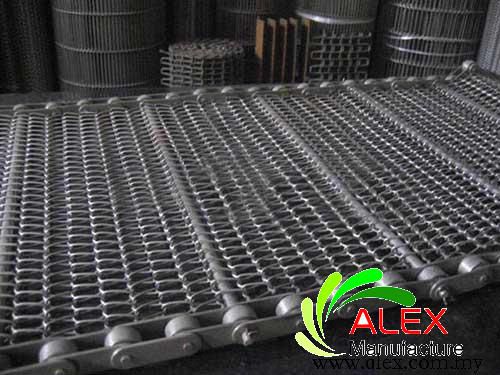 The lowest price and highest quality Conveyor Belt Mesh in malaysia
Material:Stainless steel wire, low carbon steel wire, galvanized iron wire, nickel chromium wire, iron chromium aluminum wire, polyester wire etc.
Product description: We are main supplier , distributer and contractor for BRC Fencing , Perimeter Fencing, Anti Climb Fencing, Razor Wire , Barb Wire, Building safety Netting , Wire Mesh, Crimped Wire Mesh, Welded Mesh.
Metal conveyor belts are durable, precise, and offer enhanced capabilities unavailable with other belts. Alex Manufacturer has been producing metal conveyor belts for new and existing conveyor systems for over 15 years. Using sophisticated technology and innovative manufacturing processes, we are able to provide a countless range of configurations and coatings for metal belt conveyor systems. Our metal belts are used in a variety of industries, including heat treating, forging, foundry, food processing, snack food, baking, ceramics, glass, automotive and more.
Our product line includes conveyor belts which will fit almost any application; including tight wire mesh for flexibility and conveying small parts, special smooth surface belts for easy accurate transfer, wire belts with large openings for easy flow of air or water and for simplified cleaning of your product. Our conveyor belts are used to convey metal parts through copper and aluminum brazing furnaces, bronze and iron parts through sintering furnaces, textiles and chemicals through oven dryers as well as applications that involve washing, annealing, quenching and polishing. In the food processing industry our belts are used to clean dry, bake, cook, freeze, salt, can and more.
Our metal woven wire mesh is available in any size, in patterns for any process, and in metals from plain steel to high strength alloys. Our wire conveyor belts and Chain Belts can carry light to heavy loads and will run straight without guidance. They can operate at low to high temperatures, withstand acid, alkaline, chemical corrosion, abrasion and impact.
Alex Manufacturer SDN BHD,Professional in: Anti-climb & Anti-cut fence. Stainless Steel High Security Window Screen. Metal Wire Mesh. Stainless Wire Mesh. Fencing Mesh. Razor Wire. We are professional in wire mesh.That is all we do. High quality has always been our creed. Low price with high quality. We are not a distributor. We manufacture all of our products.We believe in customer first. We provide security solution. We provide service with customized services. We protect you and your family. We serve you people-oriented. We want you safer and closer to nature.
Contact us and inquiry to get the lowest price and highest quality in malaysia in today.
Tel : +603-7783 9887 Fax : +603-7781 9887 Email: alex@alex.com.my